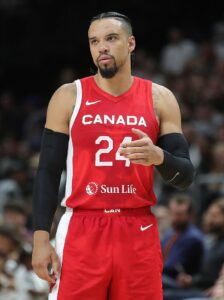 For the first time ever, Team Canada has won a medal at the FIBA Men's Basketball World Cup. On Sunday, Canada won the bronze medal game by defeating the United States 127-118 in overtime in Manila, Philippines.
The Canadian team was led by Houston Rockets small forward Dillon Brooks of Mississauga, Ontario, who had a career high 39 points. Four more Canadians reached double digits in points. Oklahoma City Thunder Guard Shai Gilgeous-Alexander of Toronto, Ontario had 31 points, New York Knicks shooting guard RJ Barrett of Toronto had 23 points, and Utah Jazz power forward Kelly Olynyk of Toronto and Thunder small forward Luguentz Dort of Montreal, Quebec had 10 points each. Gilgeous-Alexander had the double double, as he had a team-high 12 assists. Meanwhile, Dallas Mavericks power forward Dwight Powell of Toronto and Barrett led Canada with seven rebounds.
Germany won the gold medal game, as they defeated Serbia 83-77. Serbia, which won the silver medal, beat Canada in the semifinal by a score of 95-86.
Twice before Canada won a bronze medal at the FIBA Women's Basketball World Cup. The first time came in 1979 in Seoul, South Korea, and the second time came in 1986 in Russia. The bronze medal for the Team Canada men's basketball squad will give them confidence as they prepare for the 2024 Olympic Games in Paris.