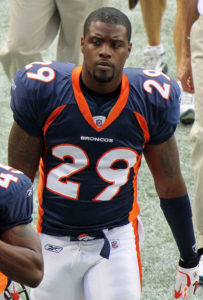 On October 2, the Edmonton Eskimos were sputtering. They just lost their sixth straight game (after winning their first seven games) by a score of 28-19 to the Winnipeg Blue Bombers and were battling to stay out of the Western Division basement. Then Eskimos General Manager Brock Sunderland made a huge trade with the Hamilton Tiger-Cats. The Eskimos acquired running back C.J. Gable for two players on their negotiation list.
The acquisition of Gable instantly turned the Eskimos season around. They have not lost a football game since. With Gable on the roster, the Eskimos won their last five regular season games and then beat the Blue Bombers on Sunday 39-32.
In the four regular season games Gable played (missed the game against the British Columbia Lions on October 21 because of an undisclosed injury), he had 367 rushing yards on 72 carries and two touchdowns. Gable also caught nine passes for 99 yards and a touchdown.
Then in the Eskimos playoff win in Winnipeg Sunday, Gable had 16 carries for 107 yards and two touchdowns and four catches for 37 yards. Gable's first touchdown was of the highlight reel variety. It was a 15 yard run where he overpowered approximately half a dozen of Blue Bomber defenders.
In the Eastern semi-final meanwhile, the Saskatchewan Roughriders beat the Ottawa Redblacks 31-20. The Roughriders had stingy defense throughout the contest and will now play the Toronto Argonauts in the Eastern Final. The Eskimos will play the Calgary Stampeders in the Western Final.