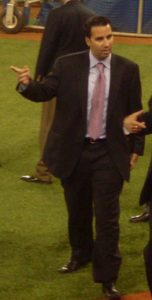 The Atlanta Braves have hired a Canadian as their general manager. On Monday they named Alex Anthopoulos of Montreal, Quebec as the person in charge of baseball personnel decisions for the Braves. In addition to the general manager, Anthopoulos will be the Braves executive vice president.
Anthopoulos has his degree in economics at McMaster University in Hamilton. His previous roles include being the Montreal Expos' scouting co-ordinator and assistant scouting director in 2002 and 2003, the Toronto Blue Jays' scouting director, assistant general manager and general manager, where he held that specific role from 2009 to 2015, and then the Los Angeles Dodgers' vice president of baseball operations in 2016 and 2017.
On the international side, Anthopoulos has great links to Greek baseball. He was a scout for the Greek National Baseball Team at the 2004 Olympic Games in Athens.  Notable Greeks on the 2004 Olympic team included former Toronto Blue Jays catcher George Kottaras of Scarborough, Ontario, former New York Yankees outfielder Clay Bellinger (who is best known for being the father of 2017 National League rookie of the year Cody Bellinger of the Los Angeles Dodgers) and outfielder Nick Markakis, who ironically Athopoulos now reunites with in Atlanta.
Last season the Braves had a record of 72 wins and 90 losses and third place in the National League East. Anthopoulos takes over from John Coppolella, who resigned on October 2. Anthopulos's greatest accomplishment to date was being the general manager for the Toronto Blue Jays when they won the American League East in 2015. It was the first time since 1993 that the Blue Jays reached the postseason.