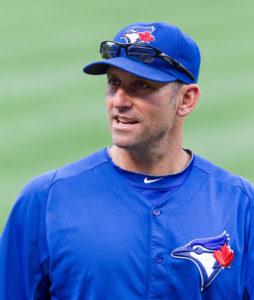 Major League Baseball announced its managers of the year on Tuesday and each have a Toronto Blue Jays connection. Former Blue Jays designated hitter Paul Molitor was named the American League Manager of the Year and former Blue Jays first base coach Torey Lovullo was named the National League Manager of the Year. While with the Blue Jays, Molitor was the 1993 World Series most valuable player and the cornerstone of WAMCO, which was the popular acronym used for the top five Blue Jays in their 1993 World Series champion batting order (White, Alomar, Molitor, Carter and Olerud).
Molitor, who managed the Minnesota Twins, this past year, did an amazing job. In 2016, the Twins had a Major League Baseball worst record of 59 wins and 103 losses. However, only a year later, the Twins had 26 more wins, and at 85 wins and 77 losses, qualified for the postseason. The Twins lost to the New York Yankees 8-4 in the American League Wild Card game at Yankee Stadium, but it was a great season for the Twins who completely exceeded expectations in 2017.
Lovullo, who managed the Arizona Diamondbacks, also deserves high praise. In 2016, the Diamondbacks completely underperformed. Prior to the start of the 2016 season there were high expectations in Phoenix as the club signed starting pitcher Zack Greinke to a whopping six year contract worth $206.5 million. However, Arizona were 24 games below .500 and after going 69-93, fired manager Chip Hale and brought Lovullo on board. Lovullo brought stability to the Diamondbacks team, and in the process, like the Twins reached the National League playoffs. Arizona had a complete regular season reversal in 2017 from 2016 as they went 93-69, beat Colorado 11-8 in the National League Wild Card game before being swept by the Los Angeles Dodgers 3-0 in the National League Divisional Series.