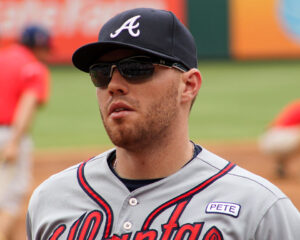 The Atlanta Braves are World Series champions. On Tuesday, the Braves defeated the Houston Astros 7-0 at Minute Maid Park in Houston, Texas to win the World Series. With the win, the Braves won the best out of seven series four games to two.
The Braves had Canadian connections. Mike Soroka of Calgary, Alberta is a pitcher in the Braves organization even though he did not play in 2021 due to a torn Achilles. Meanwhile, the Braves assistant athletic trainer Mike Frostad is from Calgary, and received his bachelor degree in Physical Education, specializing in athletic therapy, from the University of Calgary in 1996.
The Braves general manager is Alex Anthopoulos of Montreal, Quebec. If you were wondering where Anthopoulos was during the World Series celebrations, he was not on the field due to the fact he currently has coronavirus.
Then there is the Braves first baseman Freddie Freeman. Even though Freeman was born in California, Freeman represents Canada internationally because both of his parents are from Ontario. In the 2021 World Series, Freeman batted .318 with two home runs and five runs batted in. He scored two runs, and had one double, 14 total bases, one sacrifice fly, two walks, an on base percentage of .360 and a slugging percentage of .636.
Two of Freeman's extra base hits came in game six of the series. He had a RBI double in the fifth inning, which scored World Series Most Valuable Player Jorge Soler, and put the Astros up 3-0. Then in the seventh inning, Freeman hit a home run which put the Braves up 6-0.