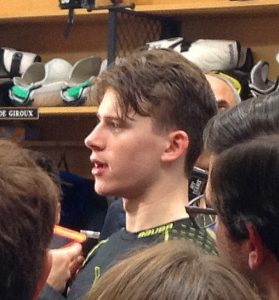 Carter Hart of Sherwood Park, Alberta seems to be much more comfortable in net for the Philadelphia Flyers in 2021-22. On Tuesday, Hart made 29 saves as the Flyers defeated the Arizona Coyotes 3-0 at the Wells Fargo Center in Philadelphia, Pennsylvania.
Hart made 13 saves in the first period, nine saves in the second period, and seven saves in the third period. Jakob Chychrun led the Coyotes with six shots on goal.
After having a poor season in 2020-21, where he had a record of nine wins, 11 regulation losses, and five losses in extra time, a poor goals against average of 3.67, and an equally poor save percentage of .877, Hart has shown significant improvement in 2021-22. He has a record of three wins, two regulation losses, and one loss in extra time, a strong save percentage of 2.33 and a much improved save percentage of .928.
Offensively for the Flyers on Tuesday, they received goals from Sean Couturier of Bathurst, New Brunswick, Scott Laughton of Oakville, Ontario, and Claude Giroux of Hearst, Ontario. Couturier and Giroux each had multi-point games as they had one goal and one assist.
Hart's first NHL regular season shutout came on October 9, 2019 in a 4-0 Flyers win over the New Jersey Devils. His second NHL regular season shutout came on February 28, 2021 in a 3-0 Flyers win over the Buffalo Sabres.