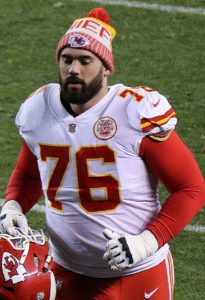 The Kansas City Chiefs have traded offensive lineman Laurent Duvernay-Tardif of Saint-Jean-Baptiste, Quebec to the New York Jets for tight end Dan Brown on Tuesday according to Nick Shook of nfl.com.  At 30 years of age, Duvernay-Tardif has not played a game so far this season after sitting out the entire 2020 National Football League season to assist people at a long-term care facility that was impacted by coronavirus. Duvernay-Tardif has his medical degree from the University of McGill.
Duvernay-Tardif has been a member of the Chiefs since the 2014 NFL season. He was part of the Chiefs team that won the 2020 Super Bowl. At Hard Rock Stadium in Miami, Florida, the Chiefs defeated the San Francisco 49ers 31-20. After Duvernay-Tardif announced he would do an incredible humanitarian deed and sit out the 2020 NFL season, he won numerous prestigious awards. They included the 2020 Sports Illustrated Sportsman of the Year Award, the 2021 ESPY Muhammad Ali Sports Humanitarian Award, and the 2020 Lou Marsh Award, which is presented to the top Canadian athlete of the year.
Duvernay-Tardif became the fifth professional football player to win the Lou Marsh Award. The first four were involved in the Canadian Football League or Canadian university football. They were Toronto Argonauts quarterback Joe Krol of Hamilton, Ontario (1946), University of Western Ontario Mustangs running back Bob McFarlane of London, Ontario (1950), Ottawa Rough Riders quarterback Russ Jackson of Hamilton, Ontario (1969), and Calgary Stampeders running back Jon Cornish of New Westminster, British Columbia (2013).