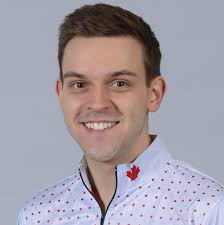 Francois Lavoie of Quebec City, Quebec made Professional Bowlers Association history on Saturday when he threw a perfect game in the round of 16 of the 2020 PBA Playoffs from Centreville, Virginia. According to the PBA website, Lavoie became the second bowler in the history of the tour to have two perfect games in title events on television. The first was American Sean Rash of Anchorage, Alaska.
The 2020 PBA Playoffs were shown on FOX. The quarterfinals, semifinals, and finals will be on November 8.
Lavoie ironically defeated Rash in the round of 16. He also had nine strikes in defeating Norm Duke of Clermont, Florida in the round of 24. The other three bowlers who have reached the quarterfinals to date are Jason Belmonte of Orange, Australia, Kristopher Prather of Plainfield, Illinois and Anthony Simonsen of Little Elm, Texas.
The first time Lavoie recorded a perfect game in a title event on television was the semifinals of the 2016 United States Open in Las Vegas, Nevada. Lavoie defeated Shawn Maldonado of Houston, Texas to reach the finals, where he defeated Marshall Kent of Yakima, Washington in the final. In winning the U.S. Open four years ago, Lavoie became only the second bowler from outside the United States to win the title. The first was Mika Koivuniemi of Finland who won in 2001. Lavoie then won his second major title in 2019 when he won the U.S. Open in Mooresville, North Carolina.
The U.S. Open is one of five majors on the PBA Tour. The others are the USBC Masters, the PBA World Championship, the Tournament of Champions, and the PBA Players Championship.
Lavoie has two other victories on the PBA Tour. The first came at the 2016 Shark Championship in Reno, Nevada and the other came at the 2017 Xtra Frame Greater Jonesboro Open in Mooresville, North Carolina.