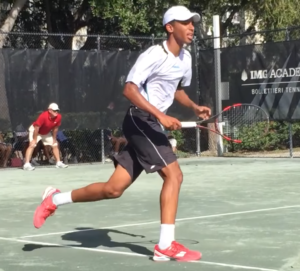 Felix Auger-Aliassime of Montreal, Quebec has reached his sixth ATP Tour final and third final of 2020. On Saturday, Auger-Aliassime beat Roberto Bautista-Agut of Spain 6-3, 1-6, 6-3 in the men's semifinals of the Bett1Hulks Indoor Championship in Cologne, Germany.
This is the first ever Bett1Hulks Indoor Championship. A major reason why this tournament was put together in Cologne, Germany is because of all of the cancelled tennis tournaments throughout the season on the ATP Tour due to coronavirus. Among the cancelled tournaments included the Rogers Cup, which was to take place in Auger-Aliassime's home city of Montreal. In additon to the Bett1Hulks Indoor Championship, a second event in Cologne, as well as single events in Nur-Sultan, Kazakhstan and Sardinis, Italy were also added.
In Cologne this week, Auger-Aliassime entered the tournament as the third seed, and got a first round bye as a result. He then defeated qualifier Henri Laaksonen of Switzerland 6-4, 6-1 in the second round, and Radu Albot of Moldova 6-3, 6-0 in the quarterfinals.
In the final in Cologne, Auger-Aliassime will play the number one seed, Alexander Zverev of Germany. Zverev has won the two head-to-head meetings in the past as he won last year in Monte Carlo and Beijing.
Auger-Aliassime's other two finals in 2020 came in February. At the Rotterdam Open in the Netherlands, Auger-Aliassime lost 6-2, 6-4 to Gael Monfils of France. Then at the Open 13 in Marseille, France, Auger-Aliassime lost 6-3, 6-4 to Stefanos Tsitsipas of Greece.
Meanwhile in Russia this week, Denis Shapovalov of Toronto, Ontario, and Milos Raonic of Thornhill, Ontario both lost in the semifinals at the St. Petersburg Open. Shapovalov was beaten 4-6, 6-3, 6-4 to Andrey Rublev of Russia, and Raonic lost 1-6, 6-1, 6-4 to Borna Coric of Croatia.