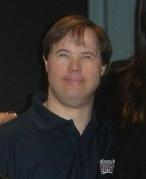 According to Caley Ramsay and Emily Mertz of Global News Edmonton, Joey Moss, the Edmonton Oilers locker room attendant, has passed away at the age of 57. Moss, who was inducted into the Alberta Sports Hall of Fame in Red Deer in 2015, had worked with the Oilers since 1985.
Moss, who had Down Syndrome, was responsible for filling up players' water bottles, folding towels, and vacuuming the dressing room. Moss also worked for the Edmonton Eskimos in the Canadian Football League starting in 1986. At that time, Moss worked closely with Eskimos equipment manager Dwayne Mandrusiak.
According to Oilers equipment manager Barrie Stafford, Moss "was the most famous person in Edmonton and doesn't even know it." In addition to being inducted into the Alberta Sports Hall of Fame, Moss was awarded the National Hockey League Alumni Association's seventh man award in 2003, the mayor's award from the city of Edmonton in 2007, and the Diamond Jubilee Medal in 2012. The Joey Moss Cup was also created with the award going to the winning team of the annual Edmonton Oilers intrasquad game during training camp.
Moss's passion for the Oilers was electric. In 2006, Moss needed surgery on his hernia. However, he had the surgery delayed so he could continue to watch the Oilers in their magical run to the Stanley Cup Finals where they lost in seven games to the Carolina Hurricanes.