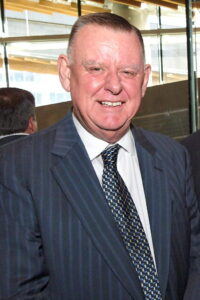 British Columbia Lions owner David Braley of Montreal, Quebec has passed away at the age of 79 according to the Canadian Press on Monday. Braley had owned the Lions since 1997.
However, what made Braley so unique in professional sports is that he owned two Canadian Football League teams at the same time. In addition to owning the Lions, Braley owned the Toronto Argonauts from 2010 to 2015. He also owned the Hamilton Tiger-Cats for four years from 1987 to 1990. Also in 2002, Braley was the Canadian Football League's interim commissioner.
Braley went into highly populated Canadian markets, which not necessarily had a huge appetite for the CFL brand of football and tried to make it work. He understood that the CFL needed to be in Vancouver and Toronto in order to make its overall brand very important on the national stage. There is no doubt that Braley lost money in his CFL endeavours, but the positive energy he exemplified over the last 33 years as an owner is a major reason why the CFL continues to exist.
As an owner, four times Braley's teams won the Grey Cup. The Lions won in 2000, 2006, and 2011. Then in 2012, the Argonauts won the Grey Cup.
In addition to owning three CFL teams, Braley owned the Vancouver 86ers from 1997 to 2000. This is while Vancouver's premier soccer team at the time was in the A-League. Braley was also the chairman of the 2003 World Cycling Championships in Hamilton and the director of the 2015 Pan American Games in Toronto.
Braley earned his wealth by purchasing William Orlick Limited, an auto parts manufacturer which was based in Stoney Creek, Ontario. He was the company's owner and president.
In 2012, Braley was inducted into the Canadian Football Hall of Fame. In 2019, he was appointed to the Order of Canada.