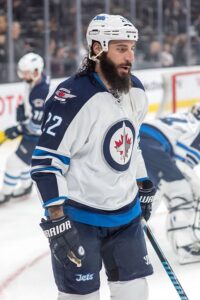 According to Jim Parsons of The Hockey Writers on Monday, former National Hockey League right winger Chris Thorburn of Sault Ste. Marie, Ontario retired at the age of 37. Thorburn played 14 NHL seasons with the Buffalo Sabres, Pittsburgh Penguins, Atlanta Thrashers, Winnipeg Jets, and St. Louis Blues from 2005 to 2019.
In 801 games, Thorburn had 53 goals and 81 assists for 134 points. He was a -40 with 968 penalty minutes, three power play points, five shorthanded points, eight game winning goals and 691 shots on goal.
Thorburn's finest NHL season came in 2010-11 with the Thrashers, when he set career-highs in goals (nine), points (19), power play points (three) and shots on goal (114). It was the only time in Thorburn's career that he registered the century mark in shots on goal for a single season.
Thorburn only played one game in the NHL for the Blues in 2019-20. He had three shifts and one hit in one minute and 52 seconds of ice-time in a 4-3 overtime loss to the Chicago Blackhawks on October 13, 2018. Even though he saw limited time on the Blues last season, Thorburn was invited to come on to the ice when the Blues won their first and only Stanley Cup in franchise history.
Thorburn was in fact the fourth Blues player on the ice to raise the Stanley Cup. He followed Canadian Olympic gold medalists Alex Pietrangelo of King City, Ontario, and Jay Bouwmeester of Edmonton, Alberta, and Alex Steen of Winnipeg, Manitoba. Pietrangelo and Boumeester each won the gold medal for Canada at the 2014 Olympic Winter Games in Sochi.