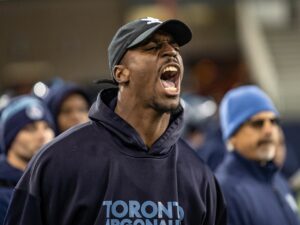 According to Dan Ralph of the Canadian Press on Wednesday, James Wilder Jr. of Tampa, Florida, has decided to retire from the Canadian Football League. Wilder had played the last three seasons with the Toronto Argonauts from 2017 to 2019, and had set to play for the Montreal Alouettes, but never got that chance because of coronavirus.
Wilder signed a one-year contract with the Alouettes on January 30, 2020. He was expected to be the clear number one running back for the Alouettes, but could no longer wait to see if the CFL would have a season or not. At 28 years old, Wilder accepted a job as a football coach at Henry B. Plant High School in Tampa, Florida, and has also agreed to run a fitness facility in the state of Florida.
In three CFL seasons with the Argonauts, Wilder had 361 carries for 2027 yards and nine touchdowns. He also had 154 catches for 1487 yards and five touchdowns.
In the 2017 CFL Playoffs, Wilder had 23 carries for 65 yards and one touchdown, along with 10 catches for 70 yards. Wilder was part of an Argonauts team that won the 2017 Grey Cup, as Toronto beat the Calgary Stampeders 27-24 at Toronto Dominion Place Stadium in Ottawa, Ontario.
There is no doubt that Wilder's most prolific CFL season was his first. In addition to winning the Grey Cup, Wilder was named the CFL most outstanding rookie. He had 872 yards rushing and five touchdowns, along with 533 yards receiving in 2017.
Wilder also had a wonderful college football career, as he won the Bowl Championship Series Championship Game in 2014. Wilder's Florida State Seminoles defeated the Auburn Tigers 34-31 from Pasadena, California.