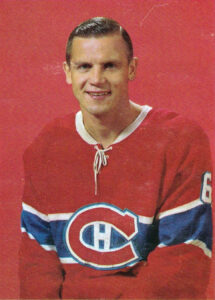 According to Stu Cowan of the Montreal Gazette on Sunday, former Montreal Canadiens centre Ralph Backstrom of Kirkland Lake, Ontario, passed away at the age of 83. Backstrom played 17 seasons in the National Hockey League with the Montreal Canadiens, Los Angeles Kings, and Chicago Black Hawks from 1956 to 1973.
In 1032 NHL regular season games, Backstrom had 278 goals and 361 assists for 639 points. He also had 351 penalty minutes, 48 power play points, and 29 game winning goals. Backstrom also played four seasons in the old World Hockey Association with the Chicago Cougars, Ottawa Civics, Denver Spurs, and New England Whalers.
A Memorial Cup champion with the Ottawa Junior Canadiens in 1958, Backstrom had an impact in his rookie season with the Canadiens in 1958-59. That season he won the Calder Trophy as the NHL's rookie of the year. He had 18 goals and 22 assists for 40 points.
Backstrom's best NHL season came in 1961-62. That year he had NHL career highs in goals (27), assists (38), and points (65). Backstrom was also was a marvelous +35, which was sixth best in the NHL that season.
A six-time NHL all-star with the Canadiens (1958, 1959, 1960, 1962, 1965, 1967), Backstrom also won six Stanley Cups with the Canadiens (1959, 1960, 1965, 1966, 1968, 1969). In 116 playoff games, Backstrom had 27 goals and 32 assists for 59 points.
Backstrom also played a key role in the Canadiens drafting Guy Lafleur. In 1971, the Canadiens had the first round pick of the California Golden Seals. Canadiens General Manager Sam Pollock was concerned the Los Angeles Kings would be weaker than the Seals, and so he traded Backstrom to the Kings to make them stronger. The Canadiens ended up getting the first overall pick and drafted Lafleur.