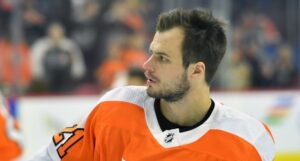 Scott Laughton of Oakville, Ontario recorded his first career National Hockey League hat trick on Sunday for the Philadelphia Flyers in their 7-4 win over the Washington Capitals. The three-goal game could have come as somewhat of a surprise because heading into Sunday's contest, Laughton only had one goal in his first 12 games.
Laughton scored a goal in each period. After the Capitals went up 2-0 in the first period, Laughton put the Flyers on the scoreboard with a goal from Joel Farabee and former Calgary Flame Erik Gustafsson at 18:33 of the opening frame. Laughton then tied up the game at two goals apiece with a goal from Farabee and James Van Riemsdyk at 2:29 of the second period. Laughton then notched his hat trick with 2:09 left in the third period with a goal from Michael Raffl and Farabee to put the Flyers up 6-4.
Laughton was one of two Canadians on the Flyers to have a multi-point game. Reigning Selke Trophy winner Sean Couturier of Bathurst, New Brunswick had two goals and one assist for three points. With the win, the Flyers improve to a record of eight wins, three regulation losses and two losses in extra time for 18 points. They are in second place in the East Division, behind the Boston Bruins.