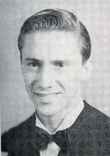 Former Calgary Flames owner Byron Seaman of Rouleau, Saskatchewan passed away on Thursday at the age of 97 according to the Associated Press. Known as B.J. Seaman in the hockey world because his middle name was James, Seaman was one of the original owners of the Flames, alongside his brother Daryl "Doc" Seaman of Rouleau, Saskatchewan, Harley Hotchkiss of Tillsonburg, Ontario, former Calgary Stampeders and Edmonton Eskimos running back Normie Kwong of Calgary, Alberta, Norm Green of Winnipeg, Manitoba, and Ralph Scurfield of Broadview, Saskatchewan.
Seaman was the chief executive officer of Bow Valley Resource Services from 1976 to 1987, and the chairman of their organization from 1987 to 1990. He initially graduated from the University of Saskatchewan with a degree in mechanical engineering in 1945.
In 1980, Seaman and his aforementioned business partners were part of the group that moved the Atlanta Flames to Calgary. He would be part of the ownership group of the Flames for the next 30 years, and was part-owner of the Flames when they won the Stanley Cup in 1989.
In 2007, the Seaman brothers, along with Hotchkiss, were inducted into the Alberta Sports Hall of Fame in Red Deer. Byron Seaman also helped fund the International Hockey Centre for Excellence, an organization associated with Hockey Canada, which offered coaching clinics, videos, research in hockey development, and athletic scholarships to players at Canadian universities.