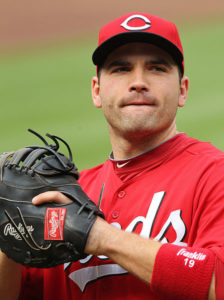 Cincinnati Reds first baseman Joey Votto of Toronto, Ontario became the second Canadian Major League Baseball player all-time to hit 300 home runs in his career according to Baseball-Reference. Votto achieved the mark in an 8-6 Reds win over the Chicago Cubs on Friday. Votto's home run came in the third inning off of Cubs starting pitcher Jake Arrieta. At the time of the home run, the Reds went up 3-2 as the home run was a two-run shot that also scored Nicholas Castellanos.
All 300 of Votto's home runs have been with the Reds since the 2007 Major League Baseball season. The most home runs Votto had in a single season was in 2010, when he had 37 home runs.
Votto's home run on Friday was his fifth home run of the season. He is fourth on the Reds in home runs in 2021. Castellanos leads with seven home runs, and is followed by Jesse Winker and Tyler Naquin, who each have six home runs.
Larry Walker of Maple Ridge, British Columbia is the only other Canadian with 300 home runs. He hit 383 home runs with the Montreal Expos, Colorado Rockies, and St. Louis Cardinals from 1989 to 2005.
With the win, the Reds improve to 12 wins and 13 losses on the season. They are three and a half games back of the National League Central Division-leading Milwaukee Brewers.