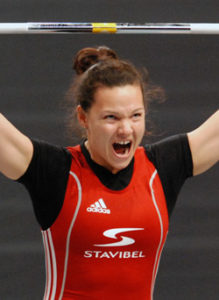 Christine Girard of Elliott Lake, Ontario is now an Olympic gold medalist in women's 63 killogram weightlifting. Girard had her Olympic bronze medal from the 2012 Olympic Games in London upgraded to gold on Thursday when it was determined that the original gold medalist Maiya Maneza of Kazakhstan and the original silver medalist Svetlana Tsarukayeva of Russia were stripped of their medals for taking steroids.
Girard lifted 103 kilograms in the snatch and 133 kilograms in the clean and jerk for 236 kilograms overall. Milka Maneva of Bulgaria won the silver medal with lifts of a total of 233 kilograms and Luz Acosta of Mexico won the bronze medal with lifts of a total of 224 kilograms.
Girard won an Olympic medal by 50 kilograms. Seen Lee of Australia finished in fourth place with lifts of a total of 186 kilograms.
Even though the weightlifting competition took place six years ago, Girard deserves all of the positive recognition possible. The Canadian Olympic Committee has confirmed a special medal ceremony for Girard will take place. In the past there have been special ceremonies for cross country skier Beckie Scott and shot putter Dylan Armstrong.
Girard has now won an Olympic gold medal and an Olympic bronze medal. She won an Olympic bronze at the 2008 Olympic Games in Beijing in the women's 63 kilogram weightlifting competition.
Girard is also one of two Canadian Olympic gold medalists from the 2012 Olympic Games in London. The other was Rosie MacLennan of King City, Ontario, who won gold in the women's trampoline. Canada's official medal count from the 2012 Olympic Games in London is now two gold medals, five silver medals and 11 bronze medals for 18 medals overall. They remain in 15th place in the total medal count.