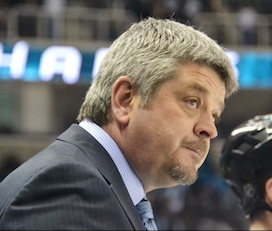 The Los Angeles Kings of the National Hockey League named Todd McLellan of Melville, Saskatchewan their new head coach on Tuesday. McLellan replaces Willie Desjardins of Climax, Saskatchewan who was named the interim head coach on November 4.
The Kings become the third National Hockey League team that McLellan has been a head coach for. The others are the San Jose Sharks and Edmonton Oilers.
While with the Sharks, McLellan had great regular season success. He made the playoffs with San Jose in six straight seasons before missing them surprisingly in 2014-15. While with the Oilers, McLellan could not repeat the success he had in northern California as Edmonton missed the postseason in three of four years. The one year the Oilers did make the playoffs (in 2016-17), the Oilers overachieved as they finished in second place in the Pacific Division with 103 points. That was the most successful regular season the Oilers have had since 1986-87.
A general trend for McLellan-coached teams in the NHL is that they tend to score goals. There is clearly a change in philosophy for the Kings as they have been completely defensive-minded since Darryl Sutter took over as the Kings head coach in 2011. With 202 goals in 2018-19, the Kings scored the second fewest goals in the NHL. Only the Anaheim Ducks at 199 goals scored fewer goals than Los Angeles.