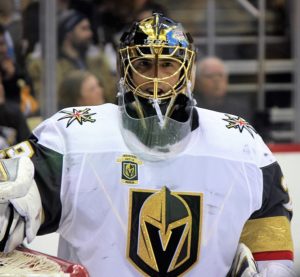 Canadian Olympic gold medalist Marc-Andre Fleury of Sorel, Quebec is continuing his outstanding goaltending for the Vegas Golden Knights in the 2018 Stanley Cup Playoffs. On Thursday night in game one of their second round series with the San Jose Sharks, Fleury made 33 saves in a shocking 7-0 Golden Knights romp.
Fleury made 17 saves in the first period, eight saves in the second period and eight more saves in the third period. Despite outscoring the Sharks by seven goals, the Golden Knights had only one more shot on net than the Sharks as they outshot San Jose 34-33.
There is no doubt that Fleury has provided leadership and stability to the Golden Knights net in the 2018 Stanley Cup Playoffs. His statistics have been very strong. In six postseason games in 2018, Fleury has a record of 5-1 with a goals against average of 1.00, save percentage of .967 and three shutouts. That is simply not bad for a goaltender on an expansion team.
Fleury has also been better than Matt Murray of Thunder Bay, Ontario. Murray is the Penguins goaltender Pittsburgh elected to keep in the 2017 NHL Expansion Draft instead of Fleury. Murray has been okay in the Stanley Cup Playoffs, but has given up 18 goals in eight games, compared to Fleury, who has given up seven goals in six games.
In previous NHL Expansion Drafts, teams had the choice of protecting up to two goaltenders. The 30 NHL teams were not given that opportunity in 2017.