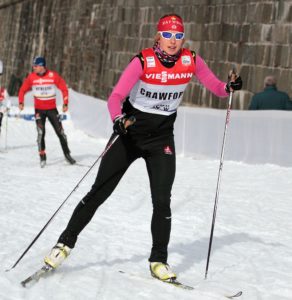 Canadian Olympic gold medalist Chandra Crawford of Canmore, Alberta has been inducted into Canada's Sports Hall of Fame for 2018.In what was one of the biggest Canadian sports stories from the 2006 Olympic Winter Games in Torino, Crawford won the gold medal for Canada in the women's 1.1 kilometre sprint, despite never having won a World Cup race before.
Crawford becomes the sixth cross-country skier to be inducted into the Canada's Sports Hall of Fame in Calgary. She is joined by Sharon Firth, Shirley Firth, Pierre Harvey, Beckie Scott and Herman Smith-Johannsen. Like Crawford, Scott is an Olympic gold medalist. She won the gold medal in the women's 10km combined pursuit at the 2002 Olympic Winter Games in Salt Lake City.
Other inductees included two-time Olympic silver medal winning diver Alexandre Despatie of Montreal, Quebec, former Canadian Football League quarterback Damon Allen, three-time Paralympic gold medal winning wheelchair racer Jeff Adams of Mississauga, Ontario, former Toronto Maple Leafs captain Dave Keon, women's baseball player Mary Baker of Regina, Saskatchewan, sport sociologist Dr. Sandra Kirby of Winnipeg, Manitoba and World Indigenous Nations Games founder and North American Indigenous Games founder Wilton Littlechild of Edmonton, Alberta. The inductees will officially be inducted at a ceremony in Toronto on October 18.