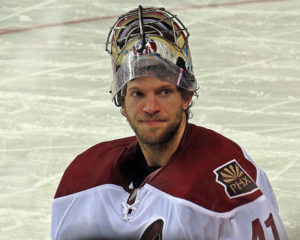 The Calgary Flames ended a remarkable losing streak on Monday in Anaheim. Up until October 9, the Flames had lost a remarkable 25 straight games in Anaheim and had not posted a win against the Ducks at the Honda Center since January 19, 2004.
On Thanksgiving, the Flames fortunes in Anaheim changed. The Flames got goals from Sean Monahan of Brampton, Ontario and Mikael Backlund and a brilliant goaltending performance by Mike Smith of Kingston, Ontario, who made 43 saves for the shutout in the 2-0 Flames victory.
With the win, the Flames improved to 2-1, while the Ducks dropped to 1-1-1. The Flames need to be very excited about the early performance of Smith, who was acquired by the Flames from the Arizona Coyotes for Calgary native and fellow goaltender Chad Johnson, defenseman Brandon Hickey and a conditional third round pick in the 2017 National Hockey League Entry Draft on June 17, 2017. The draft pick will be a second round draft pick if the Flames make the 2017 Stanley Cup playoffs.
Tonight the Flames will play the Los Angeles Kings in an interesting Pacific Division battle at the beginning of the 2017 National Hockey League regular season. The Kings have won their first two games to open the season and have only given up one goal in the process. It will also be a special night for Flames fans as 45 year-old future Hockey Hall of Famer Jaromir Jagr will make his Flames debut.