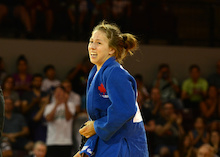 Catherine Beauchemin-Pinard of Montreal, Quebec won a bronze medal in the 63 kg division at a Grand Prix judo event in Tashkent, Uzbekistan on Saturday. For Beauchemin-Pinard it was best result of the season to go along with her silver medal at the 2017 Pan American Senior Judo Championships in Panama on April 28.
In Uzbekistan this past weekend, Beauchemin-Pinard had a record of three wins and one loss. She beat Karolina Talach of Poland, Bursa Katipoglu of Turkey and Marian Urdabayeva of Kazakhstan, while losing to Kathrin Unterwurzacher of Austria.
Beauchemin-Pinard is also making a major transition in her judo career. She has moved up one weight class from the 57kg division to the 63 kg division. While competing in the 57kg division, Beauchemin-Pinard won a silver medal at the 2015 Pan American Games and competed for Canada at the 2016 Olympic Games in Rio de Janeiro. In Rio a year ago, Beauchemin-Pinard lost to Hedvig Karakas of Hungary in the second round.
Throughout her career in major international competitions, Beauchemin-Pinard has won three bronze medals at World Cup events, one gold medal and one bronze medal in grand slam events and now one gold medal and two bronze medals in Grand Prix events. Beauchemin-Pinard's Grand Slam gold medal came in Tyumen, Russia on July 12, 2014 and her Grand Prix win came a week earlier at Ulaanbaatar, Mongolia on July 4, 2014.
It will now be interesting to see if Beauchemin-Pinard will continue with the women's 63kg weight class or return to the 57kg weight class. She will be one of Canada's top judokas at the 2020 Olympic Games in Tokyo.