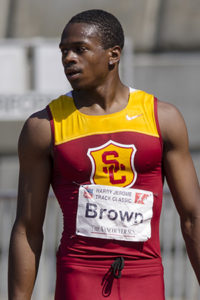 The 2021 Canadian Olympic Trials took place for next month's Olympic Games in Tokyo. The event took place in Montreal, Quebec. Here are five storylines from the event.
5) Damian Warner getting into shape. Canada's top decathlete from London, Ontario did not compete in the decathlon, but did participate in and win in the men's long jump and men's 100 metre hurdles. Those are two of Warner's strongest events in one of the most gruelling multi-discipline events at the Olympic Games.
4) Derek Drouin won't be competing in Tokyo. Canada's best high jumper of all-time, Derek Drouin of Sarnia, Ontario, injured his Achilles tendon in January, and will not be competing at the Olympic Games in Tokyo. Drouin won the gold medal at the 2015 World Championship, and the 2016 Olympic Games in Rio de Janeiro.
3) Absentees. Many of the Canadian track and field stars who already reached the Olympic Qualifying Standard time did not have to compete at the trials. That is why you saw athletes such as Andre De Grasse and Mohammed Ahmed not take part.
2) Upsets. We saw two significant upsets on the weekend. Lindsey Butterworth of Vancouver, British Columbia beat 2015 World Championship silver medalist Melissa Bishop-Nriagu of Eganville, Ontario, in the women's 800 metres, and Django Lovett of Surrey, British Columbia beat five-time Canadian champion Michael Mason of New Westminster, British Columbia in the men's high jump.
1) Aaron Brown was the fastest man. Canadian Olympic bronze medalist Aaron Brown of Toronto, Ontario ran times of 10.12 seconds in the men's 100 metres and 20.24 seconds in the men's 200 metres, to win both of the elite sprint events. He will be competing in the men's 100 metres, 200 metres, and the men's 4×100 metre relay (the event he won bronze with De Grasse at the 2016 Olympic Games in Rio) at the Olympic Games in Tokyo.