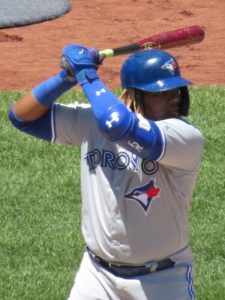 Toronto Blue Jays first baseman Vladimir Guerrero Jr. of Montreal, Quebec has been named the American League player of the week according to TSN. For the week from June 21-27, 2021, Guerrero Jr. batted .391 with three home runs and seven runs batted in.
Also in seven games, Guerrero Jr. scored eight runs and had nine hits, one double, and four walks. He is batting .342 on the season now, with a slugging percentage of .684, and an on base percentage of .443. Guerrero leads Major League Baseball at the moment in on base percentage, on base plus slugging percentage (1.127), total bases (188), and runs batted in (66). He is also tied with Los Angeles Angels designated hitter/pitcher Shohei Ohtani for the Major League lead in home runs with 26.
Guerrero Jr. now has an eight-game hitting streak and has a hit in 16 of his last 17 games. On a side note, the one game where Guerrero Jr., did not pick up a hit, on June 18, in a 7-1 Blue Jays loss to the Baltimore Orioles, I chose him in the popular mlb.com game of "Beat the Streak." Ugh!!!!!
The Blue Jays meanwhile won five of their six games. They posted two victories over the Miami Marlins by narrow scores of 2-1 and 3-1, before winning three of four games over the weekend against the Baltimore Orioles. In the four-game set, the Blue Jays scored 31 runs.