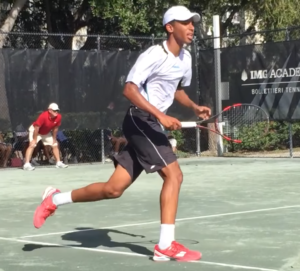 Felix Auger-Aliassime of Montreal, Quebec won an ATP men's doubles tournament this past weekend at the Rolex Paris Masters in France. In his first career doubles title, Auger-Aliassime teamed up with Hubert Hurkacz of Poland, as they defeated the second-ranked team of Bruno Soares of Brazil, and Mate Pavic of Croatia 6-7, 7-6, 10-2 in the final on Sunday. What made their victory so special is that Auger-Aliassime and Hurkacz saved five match points in the second set, before winning the set and forcing a super tie break.
Remember in men's doubles they use a super tiebreak if teams are tied at a set apiece. The first team that records 10 points thereafter wins the match.
It was simply a marvelous week for Auger-Aliassime and Hurkacz. In the first round, they defeated the formidable French duo of Adrian Mannarino and Giles Simon, 6-1, 6-2. They then beat the number one seeds in the tournament, Horacio Zeballos of Argentina, and Robert Farah of Colombia, 6-3, 3-6, 10-6 in the second round. In the quarterfinals, Auger-Aliassime and Hurkacz then beat the seventh-ranked Australians Michael Venus and John Peers, 4-6, 7-5, 11-9. Then, in the semifinals, Auger-Aliassime and Hurkacz defeated the fourth-ranked team of Brazil's Marcelo Melo and Poland's Lukasz Kubot 6-2, 1-6, 10-5.
With the win, Auger-Aliassime is now the 77th ranked men's doubles player in the world. He moved up a staggering 174 places in the world rankings with the tournament victory. Denis Shapovalov of Toronto, Ontario is the highest-ranked Canadian men's doubles player at 49th in the world.
In men's singles tennis over the weekend, Milos Raonic reached the semifinals of the Rolex Paris Masters. However, he lost to Daniil Medvedev of Russia 6-4, 7-6 on Saturday.