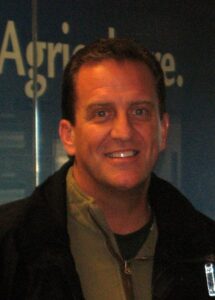 In one of the most entertaining National Collegiate Athletic Association games on the weekend, there was a familiar face to Canadian Football League fans. That is because the offensive co-ordinator for the Liberty University Flames is former Saskatchewan Roughriders quarterback/head coach and former Hamilton Tiger-Cats head coach Kent Austin of Natick, Massachusetts.
On Saturday, the Flames improved to a record of seven wins and zero losses following a 38-35 win over the University of Virginia Tech Hokies. It was a stupendous game for Flames quarterback Malik Willis. Through the air, Willis completed 20 of 30 passes for 217 yards and three touchdowns. He also had 19 rushes for 108 yards and another major score.
This game also supplied a lot of drama at the finish. With the game tied at 28, Liberty went up 35-28 on a nine-yard touchdown run by Peyton Pickett with 1:41 left. The Hokies marched down the field, and with 56 seconds left got a 12-yard touchdown run themselves by Tre Turner.
However, the Flames were not done in regulation. They moved the football into Hokies territory, and attempted a long 59-yard field goal for the win. But, it was blocked and the Hokies ran the football into the end zone, in what was presumably the game winning touchdown. This game was not over because Hokies head coach Justin Fuente had called a time out right before the 59-yard field goal was attempted and nullified the play. After a short pass play by the Flames, Alex Barbir had another field goal attempt from 51 yards and delivered to give Liberty the three-point win.
Before joining the Flames in 2019, Austin had a long career in the Canadian Football League. He was the quarterback for the Saskatchewan Roughriders from 1987 to 1993, and won a Grey Cup with Saskatchewan in 1989. As a head coach, Austin also won a Grey Cup with Saskatchewan in 2007, before being the head coach with the Hamilton Tiger-Cats from 2013 to 2017.