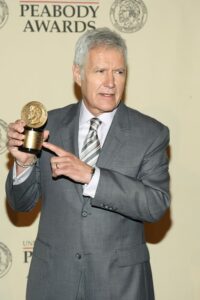 Canadian broadcaster Alex Trebek of Sudbury, Ontario, passed away at the age of 80 on Sunday of pancreatic cancer according to Brian Lowry and Dakin Andone of CNN. Even though most know of Trebek as the host of Jeopardy! since 1984, he also played a significant role in Canadian sports over the years.
Before Trebek's big break on American television, he was the announcer of CBC's curling coverage from 1966 to 1970. For 14 years, CBC had sponsored its own bonspiel, with Trebek as the host for the first five years. The event was initially called CBC Championship Curling, and then changed its name to the CBC Curling Classic from 1973 to 1979. While Trebek was hosting the coverage for CBC, he was joined in the broadcast booth by former Toronto Blue Jays broadcaster Don Chevrier of Toronto, Ontario, three-time Brier champion Ken Watson of Minnedosa, Manitoba, Canadian comedian Johny Wayne of Toronto, Ontario, and Canadian curling writer Doug Maxwell of Markdale, Ontario.
Watson was the Brier champion in 1936 in Toronto, 1942 in Quebec City, and in 1949 in Hamilton. He would be inducted into Canada's Sports Hall of Fame in 1969. Wayne meanwhile would go on to host the long-time Canadian comedy show Wayne & Shuster.
Alongside curling, Trebek was a frequent guest at the NHL Awards. Most recently, he announced the first round pick of the Ottawa Senators in the 2020 NHL Draft. The Senators selected left winger Tim Stuetzle. In 2006, Trebek received a star on Canada's Walk of Fame and in 2017, the Order of Canada.