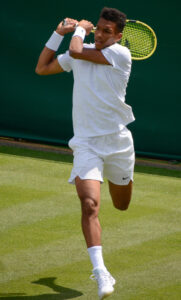 Felix Auger-Aliassime of Montreal, Quebec has advanced to the quarterfinals of the 2021 Vienna Open in Austria. On Wednesday, he did so in an impressive fashion. In one of the biggest comebacks of his career on the ATP Tour to date, Auger-Aliassime lost the first set 6-2 to Cameron Norrie of Great Britain, and was down 5-1 and 6-3 in the second set tiebreak before winning the tiebreak 8-6. Then in the third set, Auger-Aliassime broke Norrie in one game to love before winning the deciding set 6-4.
There is no doubt that Auger-Aliassime needs to be credited for his patience and maturity in the second set victory. Norrie seemed disgruntled in the third set, after having chances to put Auger-Aliassime away in the second set.
One area where Auger-Aliassime struggled was with the accuracy of his serve. He had nine double faults compared to Norrie's two. Still, Auger-Aliassime had 13 aces compared to Norrie's six.
The victory over the unseeded Norrie should give Auger-Aliassime significant confidence. That is because despite the fact that Norrie was unseeded in Vienna, he recently won Indian Wells earlier this month.
Auger-Aliassime, the sixth seed in Austria, will now play the winner of Alexander Zverev of Germany and Alex de Minaur of Australia in the quarterfinals on Friday. Meanwhile in St. Petersburg, Denis Shapovalov of Toronto, Ontario has advanced to the quarterfinals on Friday, where he will face Jan-Lennard Struff of Germany.