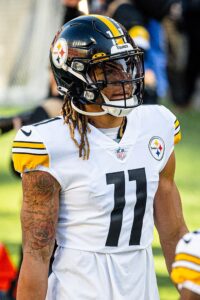 The Pittsburgh Steelers are in the 2021 National Football League playoffs, and a major contributor in Sunday's win was wide receiver Chase Claypool of Abbotsford, British Columbia. In the Steelers' 16-13 overtime win over the Baltimore Ravens on Sunday, Claypool caught a six-yard touchdown pass from Steelers quarterback Ben Roethlisberger with two minutes and 54 seconds left in regulation. At the time, Claypool's touchdown put the Steelers up 13-10. Ravens kicker Justin Tucker then kicked a 46-yard field goal with one minute and 13 seconds left in the fourth quarter to tie the game at 13, before Steelers kicker Chris Boswell won the game with a 36-yard field goal with one minute and 56 seconds left in overtime.
The Steelers needed a win and some help from other teams to make the playoffs. First, they needed the Indianapolis Colts to lose, which they did, 26-11 to the Jacksonville Jaguars. Second, they needed the Los Angeles Chargers and the Las Vegas Raiders not to end in a tie. This game in fact did go into overtime before Daniel Carlson kicked his fifth field goal of the game with zero time left on the clock. The 47-yard field goal helped the Raiders to a 35-32 win.
With the win, the Steelers improved to a record of nine wins, seven losses and one tie. They will now play the Kansas City Chiefs in one of three AFC Wildcard games next week.
In the Steelers win over the Ravens, Claypool had five catches for 37 yards, and surprisingly led the Steelers in rushing yards with 33. On the season, Claypool had 59 catches for 860 yards and two touchdowns, along with 14 rushes for 96 yards. After being a touchdown machine in his rookie season of 2020 (11 touchdowns), Claypool only had one other touchdown in 2021. It came in a 27-19 Steelers win over the Denver Broncos on October 10.