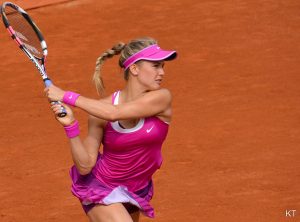 Eugenie Bouchard of Montreal, Quebec and Rebecca Marino of Toronto, Ontario are both in the second round of the Madrid Masters after first round upsets. Marino, the 79th ranked player in the world, upset Lin Zhu of China, the 39th ranked player in the world, 7-6, 6-4 on Tuesday in the first round. Bouchard, the 285th ranked player in the world, defeated Dayana Yastremska of Ukraine, the 149th ranked player in the world, 6-7, 6-2, 6-2 on Wednesday in the first round.
Marino's victory came down to the serve. She had eight aces compared to zero for Zhu. Marino also had zero double faults compared to five for Zhu.
The serve was a key statistic in Bouchard's win as well. Bouchard had two aces and zero double faults. Yastremska had one ace and four double faults.
Next up in round two for Marino is the 24th seed Elise Mertens of Belgium on Thursday. Mertens is a grand slam semifinalist as she reached the final four of the 2018 Australian Open.
Bouchard's next opponent is Martina Trevisan of Italy, the 18th seed, on Friday. Trevisan reached the semifinals of the French Open in 2022. Bouchard reached the Wimbledon Final in 2014, and the semifinals that same year at the Australian Open and French Open.
Three more Canadians are in round two. Bianca Andreescu of Mississauga, Ontario, the 23rd seed, will face Xiyu Wang of China. The fact Andreescu is playing is surprising as she tore two ligaments in her ankle last month in Miami. On the men's side, Denis Shapovalov of Toronto, the 21st seed, will face Zhizhen Zhang of China. We do not know who Felix Auger-Aliassime of Montreal, the seventh seed, will face yet.