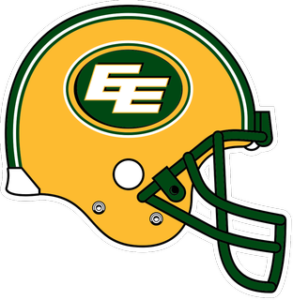 The Edmonton Eskimos have won the second longest game in Canadian Football League history. On Thursday night at the Investors Group Field in Winnipeg, Manitoba, the Eskimos beat the Winnipeg Blue Bombers 33-30.
The game started at 7:30 pm local time in Winnipeg, but took nearly six hours (five hours and 42 minutes to be precise) to play because of two lengthy weather delays. Ironically the game took place on June 14, the earliest the Canadian Football League has ever started their regular season.
It was an outstanding game for Eskimos quarterback Mike Reilly and wide receiver Derel Walker. Reilly completed 32 of 46 passes for 408 yards, a touchdown and an interception. He also led the Eskimos in rushing as he had 11 carries for 43 yards and two touchdowns. Walker had eight catches for 176 yards and one touchdown. Reilly completed a 101 yard touchdown to Walker early in the first quarter.
The longest game in CFL history remains the 1962 Grey Cup, also known as the Fog Bowl at Exhibition Stadium in Toronto, Ontario. The game between the Winnipeg Blue Bombers and Hamilton Tiger-Cats was stopped at 5:31 of the fourth quarter and the final 10:29 was played on the following day. Ironically the score at the time of the postponement was 28-27 Winnipeg and no more scoring took place on the Monday.