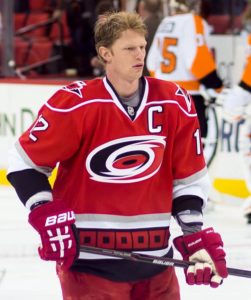 Canadian Olympic gold medalist Eric Staal of Thunder Bay, Ontario has been named the NHL player of the month for February. Staal had 13 goals and eight assists for 21 points in 12 games with the Minnesota Wild.
Staal has had an excellent season for the Wild. He leads the team with 34 goals, 65 points, 10 power play goals and two shorthanded goals. The Wild, who are trying to become more offensive in their style of play, are also in third place in the Central Division at the moment with 81 points.
Staal was also the NHL player of the week from February 19-25. During that time he had four goals and three assists for seven points in four games.
It was the ninth time this season that a Canadian has been named the NHL player of the week. The others have been Tampa Bay Lightning center Steven Stamkos of Markham, Ontario (October 16-22), New York Islanders center John Tavares of Mississauga, Ontario (October 23-29), Chicago Blackhawks goaltender Corey Crawford of Montreal, Quebec (October 30-November 5), Florida Panthers center Jon Marchessault of Cap-Rouge, Quebec (November 20-26), St. Louis Blues center Brayden Schenn of Saskatoon, Saskatchewan (December 4-10), Boston Bruins center Patrice Bergeron of Ancienne-Lorette, Quebec (January 1-7), Colorado Avalanche center Nathan MacKinnon of Halifax, Nova Scotia (January 15-21) and Philadelphia Flyers center Claude Giroux of Hearst, Ontario (February 6-11). MacKinnon then won a second time for the week from February 26 to March 4.
Staal also becomes the third Canadian player this season to be the NHL player of the month. Stamkos was the player of the month for October and MacKinnon was the player of the month for November.