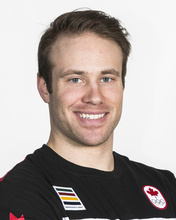 Kevin Drury of Toronto, Ontario won a gold medal on Sunday in men's ski cross racing in Sunny Valley, Russia. It was a glorious weekend for Drury as he also won a World Cup silver medal in men's ski cross on Saturday.
On Sunday, Drury beat silver medalist Jonas Lenherr of Switzerland and bronze medalist Filip Flisar of Slovenia for his first World Cup gold medal of his career. Armin Niederer of Switzerland was the other men's ski cross racer to reach the big final as he was in fourth place.
On Saturday, Drury won his second World Cup silver medal race of the season as he finished behind Lenherr. Jean-Frederic Chapuis of France won bronze and Francois Place of France was the other men's ski cross racer to reach the big final as he was in fourth place.
Prior to this past weekend the only other time this season Drury won a medal was at Arosa, Switzerland on December 12, when he won the silver medal behind Viktor Andersson of Sweden. Drury is in third place in the World Cup men's ski cross standings with 398 points. Marc Bischofberger of Switzerland leads with 462 points followed by Chapuis at 403 points.
On the women's side, Canadian Olympic silver medalist Brittany Phelan of Sainte-Agathe-des-Monts, Quebec won two World Cup silver medals in Sunny Valley, Russia. Phelan's first silver came on Saturday when she placed behind Fanny Smith of Switzerland and ahead of Katrin Ofner of Austria. Phelan's second silver came on Sunday when she placed behind Sandra Naeslund of Sweden and ahead of Smith.
Phelan is third in the World Cup standings for women this season behind Naeslund and Smith. The final World Cup ski cross race of the season for men and women will come in Megeve, France on March 17.