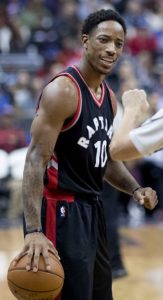 Toronto Raptors shooting guard DeMar DeRozan of Compton, California has been named the NBA player of the week for February 23 to March 4. It was the fourth time this season that DeRozan has received that honour as he was also the player of the week from November 13-18, December 18-24, and January 1-7.
In four games, all Raptors wins, DeRozan averaged 20.8 points, 5.8 assists and three rebounds. On February 26, DeRozan and Kyle Lowry each had 20 points to lead the Raptors to a 123-94 win over the Detroit Pistons. On February 28, DeRozan led the Raptors to a 117-104 win over the Orlando Magic. On March 2, DeRozan had a team high 23 points in a 102-95 win over the Washington Wizards. Then on March 4, DeRozan had a team high 19 points in a 103-98 win over the Charlotte Hornets. Anthony Davis of the red hot New Orleans Pelicans was the NBA Western Conference Player of the Week.
DeRozan has been the NBA player of the week the second most times this season. James Harden of the Houston Rockets has been the NBA player of the week five times.
Now it is important that DeRozan be considered for NBA MVP. No Toronto Raptors player in the history of the NBA has won the award. However, DeRozan needs to be in the conversation as the Raptors lead the Eastern Conference with a record of 45 wins and 17 losses and have the third best record in the NBA, as they are only behind the Houston Rockets (49-13) and the Golden State Warriors (49-14).
However DeRozan is not the first player to be named NBA MVP with a Canadian connection. Steve Nash, a point guard who was raised in Victoria, British Columbia, was the NBA MVP while with the Phoenix Suns in 2004-05 and 2005-06.