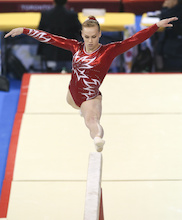 Ellie Black of Halifax, Nova Scotia is a gold medalist at the Summer Universiade, Commonwealth Games and three-time gold medalist at the Pan American Games. However, Black accomplished her biggest achievement on Friday at the Olympic Stadium in Montreal when she won the silver medal in the women's all-around at the 2017 World Gymnastics Championships. 
Black had a total score of 55.132 points. Morgan Hurd of the United States won the gold medal with a score of 55.232 points. Elena Eremina of Russia won the bronze medal with a score of 54.799 points.
Black's score was 0.433 points better than Mai Murakami of Japan, who finished in fourth place with a score of 54.699 points. In the four events, Black finished third on the vault, fourth on the uneven bars, second on the balance beam and eighth on the floor.
Black has two more chances for medals at the World Artistic Gymnastics Championships. She is in the final of the vault on Saturday and balance beam on Sunday. Two other Canadians have reached apparatus finals. Shallon Olsen of Vancouver, British Columbia is in the vault final on Saturday and Brooklyn Moors of Cambridge, Ontario is in the floor final on Sunday.
Canada has now won nine medals in the history of the World Gymnastics Championships–four silver medals and five bronze medals. The silver medal for Black will give her confidence in preparation for the 2020 Olympic Games in Tokyo.