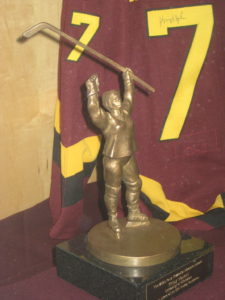 Elizabeth Giguere of Quebec City, Quebec has won the 2020 Patty Kazmaier Award according to Pat Hickey of the Montreal Gazette. The award, which was presented to Giguere on Friday, is presented to the top women's hockey player in the National Collegiate Athletics Association on an annual basis.
Giguere was a forward this past season for Clarkson University. In 37 games, she had 37 goals and 29 assists for 66 points. She also had 12 penalty minutes and was a +39.
Giguere led the NCAA with 37 goals. She was also tied for second in the NCAA with 66 points. Giguere and Alina Mueller of Northeastern University were each eight points back of Daryl Watts of Toronto, Ontario, who led the NCAA in women's hockey this season with 74 points (25 goals and 49 assists). Watts was playing this past season with the University of Wisconsin.
Despite having 66 points for Clarkson University in 2019-20, that was the least number of points Giguere had in the NCAA over the last three seasons. She had 71 points as a freshman in 2017-18 and 73 points as a sophomore in 2018-19.
This is the fourth straight season a Canadian has won the Patty Kazmaier Award. Giguere follows Wisconsin Badgers goaltender Ann-Renee Desbiens of La Malbaie, Quebec (2017), Watts while she was with Boston College (2018) and Clarkson University forward Loren Gabel of Kitchener, Ontario (2019).
In an interesting note, Elizabeth Giguere is the daughter of former Anaheim Ducks goaltender Jean-Sebastien Giguere of Montreal, Quebec who won the Conn Smythe Trophy with the Ducks in 2003 and the Stanley Cup with the Ducks in 2007. Jean-Sebastien Giguere also played for the Hartford Whalers, Calgary Flames, Toronto Maple Leafs and Colorado Avalanche in the National Hockey League.