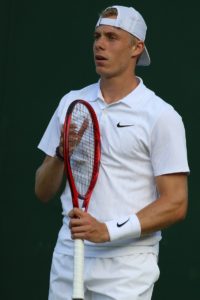 Denis Shapovalov of Toronto, Ontario is in a grand slam men's singles semifinal for the first time in his tennis career. On Wednesday in Wimbledon, Shapovalov, who was the 10th seed, defeated the 25th seed, Karen Khachanov of Russia, in a five-set thriller, 6-4, 3-6, 5-7, 6-1, 6-4.
A major reason for Shapovalov's success on court one in the men's quarterfinals, came down to his explosive serve. Shapovalov had 17 aces, while Khachanov only had three. In fact, Khachanov had more double faults (seven), than aces (three).
Shapovalov also was able to return the tennis ball more effectively than Khachanov. Shapovalov won 64 points returning serve, while Khachanov only had 36.
Shapovalov now has a daunting task ahead of him. That is because he is set to face world number one Novak Djokovic of Serbia in the second of two men's semifinal games on Friday. The first will have Hubert Hurkacz of Poland against Matteo Berrettini of Italy.
In order for Shapovalov to pull off the upset and surprise the world number one, he will need to limit his unforced errors, play with a positive attitude, and start to agitate Djokovic with a variety of shots. Djokovic is 6-0 against Shapovalov, including a four-set win at the 2019 Australian Open, and a two-set win in the final of the 2019 Paris Indoor, which is part of the ATP Masters 1000 Series.