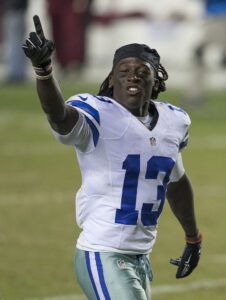 On the first day of Canadian Football League free agency on Tuesday, the British Columbia Lions signed two offensive players in running back Shaq Cooper of Coral Gables, Florida from the Edmonton Football Team, and wide receiver Lucky Whitehead of Bealeton, Virginia from the Winnipeg Blue Bombers. Cooper had spent 2018 and 2019 with Edmonton, while Whitehead only played the 2019 season in Winnipeg.
In two seasons with Edmonton, Cooper had 65 carries for 352 yards and two touchdowns. He also had 15 catches for 112 yards. In his career, Cooper has 90 rushes for 496 yards, and two touchdowns, along with 21 catches for 156 yards and one touchdown.
Cooper became expendable when Edmonton decided to sign running back James Wilder Jr. for the 2021 season. The Lions were in need of a running back when John White signed with the Toronto Argonauts. Cooper is also the cousin of New York Jets running back Frank Gore according to Steve Ewen of The Province.
Whitehead meanwhile won a Grey Cup with the Blue Bombers in 2019. He is an asset because he can be used either as a wide receiver or running back. During his rookie CFL season, he caught 52 passes for 521 yards and two touchdowns, along with nine rushing carries for 92 yards and another touchdown. Whitehead's best game came in a 28-21 Blue Bombers win over Edmonton on June 27. He had seven catches for 155 yards and two touchdowns.
In addition to his season in the CFL, Whitehead spent two seasons with the Dallas Cowboys of the National Football League in 2016 and 2017. He had 20 rushes for 189 yards, and nine catches for 64 yards.