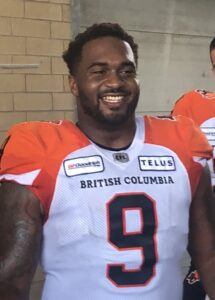 According to cfl.ca, the Ottawa Redblacks have come to terms with linebacker Christophe Mulumba-Tshimanga and defensive tackle Davon Coleman. Mulumba-Tshimanga signed with the RedBlacks for the 2021 Canadian Football League season on Wednesday according to Martin Comtois of Le Droit, and Coleman signed with the Redblacks on Friday according to 3downnation.com. 
Mulumba-Tshimanga is a non-import even though he was born in the Democratic Republic of the Congo. That is because he was raised in Montreal, Quebec before going to high school in Kent, Connecticut, and the University of Maine. Mulumba-Tshimanga played three seasons with Edmonton from 2017 to 2019.
In nine games in 2019 with Edmonton, Mulumba-Tshimanga had 10 special teams tackles. In 43 games with the Eskimos over the last three seasons, he had 53 defensive tackles, 34 special teams tackles, five sacks, and four forced fumbles.
Coleman, a native of Cleveland, Ohio, last played for the Toronto Argonauts. In 14 games with the Lions and Argonauts in 2019, Coleman had 29 defensive tackles, four sacks, and one interception. A CFL All-Star with the Lions in 2018, Coleman had 57 defensive tackles, eight sacks, and two interceptions that year.
In addition to the Lions and Argonauts, Coleman has played for the Hamilton Tiger-Cats. In 49 games, Coleman has had 127 defensive tackles, 17 sacks, and three interceptions. He also has two seasons of National Football League experience (2014 with the Dallas Cowboys and 2015 with the Chicago Bears). In four games, Coleman had three tackles.