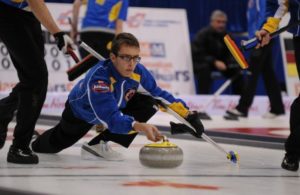 Edmonton's Valerie Sweeting and Brendan Bottcher were already eliminated from the semi-finals in women's and men's competition at the 2017 Canadian Olympic Curling Trials in Ottawa when they delivered impressive victories on the final day of round robin play. Sweeting knocked out Krista McCarville of Thunder Bay, Ontario 7-6 in 11 ends and Bottcher knocked out Reid Carruthers of Winnipeg, Manitoba 8-6 also in 11 ends.
With the losses by McCarville and Carruthers, it meant that there would be no tie-breakers at the Trials. On semi-final Saturday, the reigning world champion Rachel Homan of Ottawa, Ontario will face the reigning Olympic champion in Jennifer Jones of Winnipeg, Manitoba. Remember at the last two Canadian Olympic Curling Trials, a hometown team was victorious. At the 2009 Canadian Olympic Curling Trials, Edmonton's Kevin Martin won in Edmonton, Alberta and at the 2013 Canadian Olympic Curling Trials, Jones won in Winnipeg. The winner of Homan/Jones will face Chelsea Carey of Calgary, Alberta in Sunday's final.
Meanwhile in men's play, Mike McEwen of Winnipeg will face reigning world champion and 2006 Olympic gold medalist Brad Gushue of St. John's, Newfoundland in Saturday's semi-final with the winner facing Kevin Koe of Calgary on Sunday. Koe lost his first game of the Trials on Friday, as he fell 6-3 to Gushue. The winners of Sunday's games will represent Canada in curling at the 2018 Olympic Winter Games in Pyeongchang.