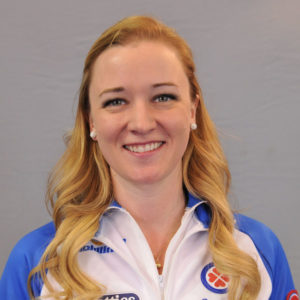 Chelsea Carey of Calgary, Alberta has remained undefeated at the 2017 Canadian Olympic Curling Trials in Ottawa, Ontario. On Thursday, Carey delivered a remarkable comeback to improve her record to a perfect 6-0.
Carey was down 4-0 after the second end to Woodstock, Ontario's Julie Tippin. Carey remained four back of Tippin after eight ends when Tippin had an 8-4 lead. However, Carey's team marched back and scored two points in the ninth and then stole three points in the tenth when Tippin missed her final shot. Carey deserves high praise for being very aggressive and on the offensive in the 10th end to pull out the 9-8 win.
However, even though Carey is undefeated, she has not yet guaranteed a spot in the semi-finals. Rachel Homan of Ottawa, Ontario only has one loss (to Carey), while Jennifer Jones of Winnipeg, Manitoba and Krista McCarville of Thunder Bay, Ontario only have two losses in the tournament so far. On Friday, Carey plays McCarville and Homan plays Jones in two very enticing matchups.
On the men's side, Calgary's Kevin Koe remains undefeated at 7-0 and will face reigning world champion Brad Gushue of St. John's, Newfoundland in the evening. Gushue is at 5-2, while Winnipeg's Reid Carruthers and Mike McEwen are each at 4-3. Edmonton's Brendan Bottcher is also mathematically still alive as he is 3-3. On Friday, Bottcher plays McEwen and Carruthers while Koe plays Gushue. The men's and women's winners at the 2017 Canadian Olympic Curing Trials will represent Canada in curling at the 2018 Olympic Winter Games in Pyeongchang.