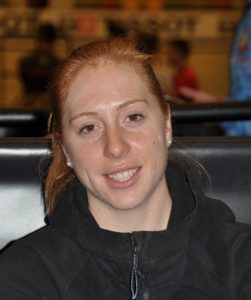 Canadian Olympic bronze medalist Allison Beveridge of Calgary, Alberta won a World Cup cycling bronze medal in the women's Omnium at a World Cup event in London, Great Britain on Friday. Beveridge posted 400 points and placed behind gold medalist Kirsten Wild of the Netherlands, who won the gold medal with 500 points and Jennifer Valente of the United States, who won the silver medal with 450 points.
Beveridge reached the podium by 25 points. Laurie Berthon of France finished in fourth place with 375 points. In Omnium, athletes compete in a scratch race, elimination race, points race and tempo race.
Beveridge is now in 14th place in the World Cup cycling standings in the women's Omnium with 1501 points. Wild leads with 3200 points.
In an impressive season to date, Beveridge is the only Canadian cyclist to earn a medal in every World Cup track cycling competition this season. However the bronze medal in the women's Omnium was Beveridge's first individual medal this season. She previously won the silver medal in the women's team pursuit in Saint-Quentin-en-Yvelines, France on October 19 with Ariane Bonhomme of Gatineau, Quebec, Annie Foreman-Mackey of Kingston, Ontario and Kinley Gibson of Edmonton, Alberta, the bronze medal in the women's Madison with Stephanie Roorda of Calgary, Alberta on October 27 in Milton, Ontario, Canada and a bronze medal in the women's team pursuit with Bonhomme, Foreman-Mackey and Roorda on November 30 in Berlin, Germany.