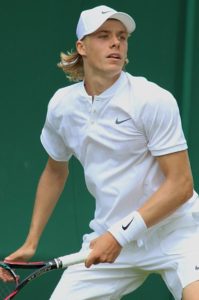 It will be an all-Canadian men's semifinal matchup on Friday as Denis Shapovalov of Toronto, Ontario will face Felix Auger-Aliassime of Montreal, Quebec at the Stockholm Open in Sweden. Shapovalov is the tournament's number three seed, and 2019 champion, while Auger-Aliassime is ranked number two.
All-time Auger-Aliassime has won three of their five career meetings. Auger-Aliassime was victorious in the first round of the 2019 Madrid Masters, in the third round of the 2021 Australian Open, and the third round of the 2021 Barcelona Open. Shapovalov's wins came in the first round of the 2018 and 2019 United States Open from Flushing Meadows, New York. The semifinal battle between Shapovalov and Auger-Aliassime is the deepest match the two have ever played against each other in an ATP event in their professional tennis careers.
Shapovalov has only one ATP career title to his career to date, and that came at the 2019 Stockholm Open, where he defeated Filip Krajinovic of Serbia, 6-4, 6-4. At the Stockholm Open so far this week, Shapovalov beat Italian qualifier Andrea Vavassori 7-6, 6-1 in the second round, and Arthur Rinderknech of France, 4-6, 6-3, 7-5 in the third round. Auger-Aliassime, meanwhile, beat Krajinovic beat 6-3, 6-4 in the second round, and Botic van de Zandschulp of the Netherlands 6-4, 6-3 in the third round. Due to the fact Shapovalov and Auger-Aliassime were both seeded among the top four in Stockholm, they received a first-round bye.