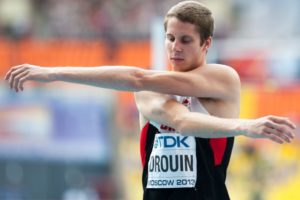 Canadian Olympic gold medalist Derek Drouin of Sarnia, Ontario had his Olympic bronze medal in the men's high jump from the 2012 Olympic Games in London upgraded to silver according to Lori Ewing of the Canadian Press. This is because Ivan Ukhov of Russia was stripped of his gold medal because of a doping ban. Ukhov had jumped 2.38 metres before the disqualification.
As a result, Erik Kynard of the United States won the gold medal with a jump of 2.33 metres. Drouin  was one of three high jumpers to have their result upgraded from bronze to silver. He is joined by Robert Grabarz of Great Britain and Mutaz Essa Barshim of Qatar. Drouin, Grabarz and Barshim all jumped 2.29 metres.
There were three other men's high jumpers who cleared 2.29 metres at the 2012 Olympic Games in London. They were Jamie Nieto of the United States, Bohdan Bondarenko of the Ukraine, and Canadian Michael Mason of New Westminster, British Columbia. However, Nieto, Bondarenko and Mason did not join Grabarz, Barshin and Drouin on the podium because they did not clear 2.29 metres on their first attempt. Grabarz, Drouin and Barshin were clear throughout the entire Olympic men's high jump competition until they each had three unsuccessful attempts at 2.33 metres.
With the silver medal by Drouin, Team Canada had two gold medals, six silver medals, and 10 bronze medals for 18 total medals. They remained in 15th place in the overall medal standings. Drouin's Olympic gold medal came at the 2016 Olympic Games in Rio de Janeiro.