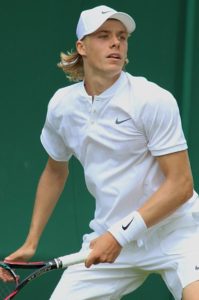 Denis Shapovalov of Toronto, Ontario is in the final of the 2021 Geneva Open. On Friday, Shapovalov defeated Pablo Cuevas of Uruguay 6-4, 7-5 in the semifinals, and will face Casper Ruud of Norway in Saturday's championship.
Shapovalov had eight aces, compared to Cuevas's four aces. Shapovalov broke Cuevas four times, while Cuevas broke Shapovalov twice. Another key statistic was percentage of second serve points won. Shapovalov won 53% of his second serve points, while Cuevas won only 39%.
This was only the second time Shapovalov has faced Cuevas in their career. The only previous meeting came in the second round of Indian Wells in 2018, which was won by Cuevas, 7-6, 6-3.
Shapovalov was seeded second at the Geneva Open, only behind the great Roger Federer of Switzerland. Due to the fact he was a top four seed, Shapovalov had a first round bye. Because of weather delays in Geneva, Shapovalov did not start until Thursday. He then beat 2018 French Open semifinalist Marco Cecchinato of Italy 6-7, 7-5, 6-1 in the second round, and then Laslo Dere of Serbia 6-4, 6-4 in the quarterfinals on the same day.
This is the third time that Shapovalov will be in a ATP final. The first time was at the 2019 Stockholm Open, which Shapovalov won by beating Filip Krajinovic of Serbia in the final, 6-4, 6-4. The second time was at the 2019 Paris Masters, where Shapovalov was beaten by Novak Djokovic of Serbia, 6-3, 6-4.