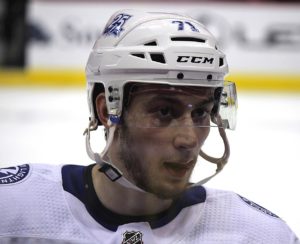 Anthony Cirelli of Woodbridge, Ontario scored the overtime winner on Thursday in game six of the Eastern Conference Final from Rogers Place in Edmonton, Alberta. With the win, the Tampa Bay Lightning beat the New York Islanders 2-1, and won the series four games to two.
Cirelli scored the game winning goal from Barclay Goodrow of Toronto, Ontario, and Alex Killorn of Halifax, Nova Scotia. Cirelli's game winner came with six minutes and 42 seconds left in the first overtime period. Cirelli also scored the first goal of the game since Victor Hedman tied the game at 6:28 of the first period.
This was Cirelli's first career overtime winner and first career game winning goal in the Stanley Cup Playoffs. It was also his third goal of the 2020 Stanley Cup Playoffs and sixth career postseason goal. Cirelli has eight career goals in the National Hockey League regular season.
The Lightning will now play the Dallas Stars in the Stanley Cup Finals in Edmonton starting Saturday. Tampa Bay has previously won the 2004 Stanley Cup Finals. Sixteen years ago, the Lightning beat the Calgary Flames in seven games. The Stars meanwhile won the 1999 Stanley Cup Finals for their own championship title. Dallas beat the Buffalo Sabres in six games.