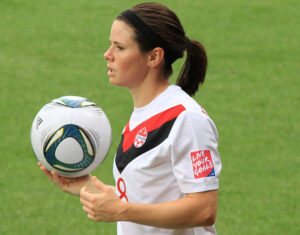 Canadian two-time Olympic bronze medalist Diana Matheson of Mississauga, Ontario has retired from women's soccer at age 37 on Wednesday according to Meaghen Johnson of TSN. Matheson, a midfielder, was on the Canadian teams that won the bronze medal in women's soccer at the 2012 Olympic Games in London, and the 2016 Olympic Games in Rio de Janeiro.
In 206 appearances with the Canadian National Women's Soccer team, Matheson scored 19 goals and had 43 assists. Her most famous goal for Canada came at the 2012 Olympic Games in London. In the bronze medal game on August 9 in Coventry, England, Canada defeated France 1-0 with Matheson scoring the lone goal of the game in the 92nd minute to break a 0-0 draw. After a game where Canada was outplayed significantly by France, the Canadian squad came away with a surprising one-goal win. Matheson's goal could be considered among the biggest goals in Canadian women's soccer history.
The news of Matheson's retirement was not very surprising, however. That is because she had a serious foot injury in the latter stages of her soccer career that prevented her from participating at the 2019 Women's World Cup in France. Instead, she was a studio analyst for TSN's coverage.
Canada will begin their 2021 Olympic women's soccer tournament on July 21 against Japan. They then play Chile on July 24 and Great Britain on July 27. Due to coronavirus, there will be no spectators in Japan for the Olympic Games.