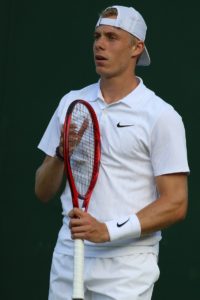 Denis Shapovalov of Toronto, Ontario became the first Canadian male tennis player to reach the quarterfinals of the United States Open in the open era on Sunday. Shapovalov made the final eight by defeating David Goffin of Belgium 6-7, 6-3, 6-4, 6-3.
Shapovalov is the 12th seed, while Goffin was the seventh seed. The two major reasons why Shapovalov was victorious was because of his serve and his ability to break Goffin's serve. Shapovalov had 12 aces, and broke Goffin five times. Goffin had three aces, and was only able to break Shapovalov once.
Shapovalov also was able to win 60% of his second serve points, while Goffin was only able to win 46% of his second serve points. This is also Shapovalov's first quarterfinal appearance at a grand slam. He previously reached the fourth round of the 2017 United States Open but lost to Pablo Carreno Busta of Spain 7-6, 7-6, 7-6. Ironically, Carreno Busta will be Shapovalov's quarterfinal opponent on Tuesday after the Spaniard stunned Novak Djokovic of Serbia in the fourth round on Sunday.
Djokovic, the number one seed, was supposed to be Shapovalov's quarterfinal opponent on Tuesday. However, that is not going to be the case. That is because on Sunday, Djokovic was disqualified from his fourth round match for hitting a linesperson in the throat with a tennis ball. Pablo Carreno Busta, the number 20 seed, was victorious after leading Djokovic 6-5 (by a break) in the first set.
Head-to-head Carreno Busta has the 3-1 advantage over Shapovalov. The only win for Shapovalov came in the first round at the ATP Masters 1000 Series in Rome in 2019, as Shapovalov won 6-3, 7-6.