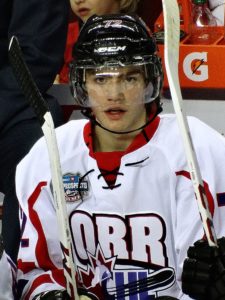 Brayden Point of Calgary, Alberta continues to have a remarkable 2020 Stanley Cup Playoff. On Monday night from Rogers Place in Edmonton, Point tied the Tampa Bay Lightning franchise record for most points in a postseason game with five as the Lightning hammered the New York Islanders 8-2.
Point had two goals and three assists in the contest. Ironically, Point is tied with Nikita Kucherov of Maykop, Russia. Kucherov also had five points in the Lightning win on Monday as he had one goal and four assists.
Point opened the scoring at 1:14 of the first period from Luke Schenn of Saskatoon, Saskatchewan, and Blake Coleman. He then notched a first period assist on a power play goal by Victor Hedman at 8:12 of the first period, which put the Islanders up 2-1. In the second period, Point picked up his third point with a power play goal from Hedman and Kucherov to make the score 5-1 Tampa Bay. Then in the third period, Point had assists on even strength goals by Kucherov and Ondrej Palat.
Point is now second in the Stanley Cup Playoffs with 23 points (eight goals and 15 assists). He only trails Colorado Avalanche center Nathan MacKinnon of Springhill, Nova Scotia, who has 25 points.
Point was one of two Lightning players to have a multi-point game in the Tampa Bay win. The other was Yanni Gourde of Saint-Narcisse-de-Beaurivage, Quebec, who had two goals.